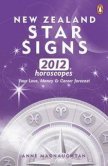 New Zealand Star Signs 2012
is an astrology book written specifically for people born in the southern hemisphere, though is equally applicable to those in the northern hemisphere. The northern and southern hemispheres have different star sign seasons because of their locations so, for each sign, New Zealand Star Signs 2012 includes a section on the 'down under shadow' which outlines the southern hemisphere-specific characteristics of people born down under. This is especially applicable to those in New Zealand and Australia, with everything else in the book applicable to everyone, wherever you are in the globe. In fact I begin the book by saying "wherever you are on the globe, we're all on the same piece of rock, orbiting the same sun, being influenced by the same cosmic conditions".
AVAILABLE NOW FOR ONLY $19.99
Included in the book is an introduction into what kind of year 2012 is, exploring both the 'myth' and the 'reality'. I've looked at the more common myths associated with the 2012 hype, like the Mayan Long Count and the Galactic Alignment. There is also a break down for each of the 12 signs into your star sign profile, down under profile, opportunities, challenges, general, love, money and business to give an extensive and insightful look at what 2012 will bring.
Where you can purchase:
We are not taking orders directly for the book, because it is so widely available. Within New Zealand this is available at most bookstores, including Whitcoulls, Paper Plus and Borders, but for those either in New Zealand or overseas that wish to buy this online below is a list of online sites that I know stock the book. Click on any of the links below, which will take you directly to the correct page, to purchase your copy directly from the following Booksellers online.
Elsewhere
in the world, any of the New Zealand online booksellers (above) deliver overseas or you can search other online booksellers, putting my name in the search box. Should you have any difficulties in obtaining a copy, please don't hesitate to contact me directly -
anne@forecasters.co.nz